Why Pay More for the Same Certification
Honored by every County Sheriff, in the State of Oregon.
Our Guarantee
Our course is priced lower than some other courses.  Why would you pay more for the same certificate?  If you have any issue with your certificate, we will make it right!  County Sheriff's all over the state know us and our certificates.  We have been around for years and will continue to offer online courses for your convenience.  If for any reason your county sheriff requires additional documentation, we are here.  Simply contact us and we will help you with any issues you have.  We stand behind the certificate you receive.  We are so sure of our program and our certifications compared to all other programs in Oregon that I even provide my phone number.  I have an "open-door" policy to provide you the best customer service.  I am proud to say that I have received only 1 single refund request from a customer that lived in another state because the certificate was not valid in their state.  That refund was issued promptly.
If you have questions or concerns about the validity of our program, or you need more information about us, please contact me by phone.  I stand behind my training and my certificates and have since the beginning.   If you want information regarding the credentials while applying for your CHL, feel free to call me.  If you are a sheriff's office in the state of Oregon, your direct line to me is 541-499-4706.
Satisfies Oregon CHL Law PER ORS 166.291(1)(f)(c)

100% Money Back Guarantee

Nationally-Certified Instructor

Oregon's Only Legally-Certified Online CHL Course

No Risk Certification

55 minutes

Free To Watch The Video And Take The Quiz

Pay Only When You Order Your Certificate

Recognized in Every County in Oregon – Guaranteed!

Mobile-Friendly Video and Quiz

Immediate Certificate Access

Downloadable And Emailed PDF Certificates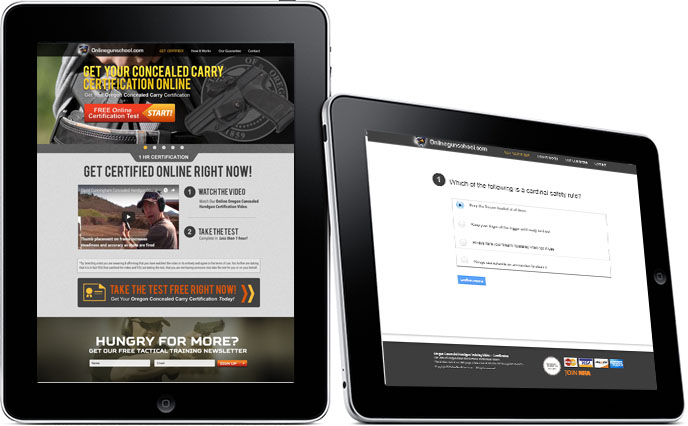 I thought the 55 minute gun safety class was very informative and well organized. Your delivery of the information was clear, easy to understand and paced appropriately. Your "emphasis" on gun SAFETY was right on target.
Thanks again,
David, It was a great course. The course layout is easy to follow and easy to understand. Thanks,
Thanks for offering this online class for the CHL. The information you provided in the video was straightforward and easy to understand. The certificate came in just two days like you promised. Your class made me feel more competent to carry and use a handgun and I really appreciate how convenient it was to take the class at home and at my own pace.
Thanks again,
When I went down the sheriff's office, they didn't even hesitate. They pulled it back and started the paperwork no Issues. Class and a simple printed out cert made everything go perfect. YouTube and multiple choice. Great combination. Thanks again for perfect class for my time and location.
I recently took the Basic Safety course at Onlinegunschool.com. I have possessed a CHL permit in Oregon for five years, but I have been an avid pistol shooter for about 20 years using both revolver and semi-auto pistols. I found the course to be extremely informative. Topics were covered in great detail, without wasting time. I feel the instructor covered the use and safe handling procedures in a method that both novice and experienced shooters can learn from. I like the way the instructor covered each topic with demonstrations and explanations. I have suggested to people pursuing a CHL to take this course.
Thank you for providing me with an almost effortless course and teaching me critical terms and points about safely controlling a pistol. The course was great and provided a good recap even for semi-experienced shooters. It was great to be able to have the luxury of doing this course on my own time and highly value the service you and your company offers. I will most definitely recommend to others! Thank you again. If you haven't taken your class for a concealed because of time or just didn't feel you needed it.. I highly recommend this class. Remember the only thing that's going to stop a bad guy with a gun, is a good guy with a gun… Or chuck Norris.